Ductless Air Conditioning Repair, Ductless HVAC Installation & Ductless Mini Splits

Thornton, CO, Broomfield, CO, Brighton, CO, Northglenn, CO, Westminster, CO & Federal Heights, CO
Ductless HVAC Installation ∴ Ductless Air Conditioning Repair ∴ Broomfield, CO ∴ Brighton, CO ∴ Broomfield, CO ∴ Westminster, CO
Are you looking for complete temperature control without the major renovation of ductwork installation?  Do you have a room that's consistently
too hot
or
too cold
?  Would you like to enhance comfort while cutting costs?  All Climate Systems Heating and Cooling provides the ideal solution.  A modern, ductless mini or multi-split system offers both heating and cooling capacity, incorporates beautifully into any decor, and can normally be installed in a single day.  With little more than a three-inch hole in an outside wall and access to electricity, you can take advantage of this compact yet powerful alternative to conventional HVAC.  
All Climate Systems Heating and Cooling
handles your start to finish project, explaining options, helping you determine the right choice for your needs, and completing your accurate installation.  Family owned, we bring innovative solutions to our customers across Thornton, CO & Surrounding Areas.
Ductless Heating Service in Brighton, CO | Ductless HVAC Installation Northglenn, CO | Ductless Air Conditioning Repair Broomfield, CO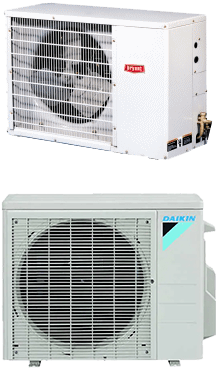 As a Bryant Dealer, our technicians are factory trained, current with evolving technology, and qualified in ductless installation.  We offer single zone systems that achieve up to 30.5 SEER in cooling mode and 10.3 HSPF in heating mode.  Multi-zone systems provide zoning for up to nine indoor units, line lengths ranging from 66 to 476 feet, up to 22 SEER in cooling mode, and 10.2 HSPF in heating mode.  Take advantage of seven fan speeds, variable-speed inverter compressor, washable filters, sleep mode, wireless remote, optional smartphone control, and more.  No matter your size of space, type of challenge, or level of expectations, All Climate Systems Heating and Cooling provides the right answer.  Giving you control over your environment.
Ductless HVAC Installation, Ductless Mini Splits, Ductless Air Conditioning, Ductless Heating, Ductless HVAC Service, Ductless HVAC Repair in Thornton, CO, Northglenn, CO, Westminster, CO, Broomfield, CO, Federal Heights, CO, Brighton, CO
Ductless HVAC Installation

∴

Ductless Mini Splits

∴

Ductless Air Conditioning Repair

∴

Ductless Heating Service ∴ Brighton, CO ∴ Federal Heights, CO ∴ Broomfield, CO